The Sound of Salzburg
One of our best friends has regaled us with tales of the wonders of Austria, and especially Salzburg, for as long as we can remember, so we figured it was high time we checked it out.
Mozart was born there, The Sound of Music was based on a true story and was filmed there, and the famous Hohensalzburg Castle towers over the town.
So even though we were just passing through on our whirlwind car tour across The Continent, we squeezed a day into our schedule.
The yellow house that Mozart was born in
We soon realized it would have been colossally stupid to have driven past Salzburg.
The main part of the city, Old Town, is small enough to cover on foot, so we found a place to stash the car and explore.
We can safely say, this was the first time we had ever parked a car under a mountain.
Upon contemplating it though, the concept seemed rather ingenious. No unsightly garage cluttering up the view, and none of the ancient buildings had to be razed to make way for a parking lot.
BUT, it was freaking oppressive in there knowing a gazillion tons of solid rock was pushing down overhead.
We popped our ears for good measure and got out of there as quickly as we could.
Attempts at cashing in on the Von Trapp family story were fairly rampant - The Sound of Salzburg Show, The Salzburg Sound of Music Singers, and so on, and so on.
One gal has found a way to turn a profit on the movie fame by taking tours of the city with the slogan "The Sound of Trudy." She sings as she shows the movie locations... hard to believe we passed on this once in a lifetime opportunity. ♪The hills are alive, with the Sound of Truuuu-dy.♪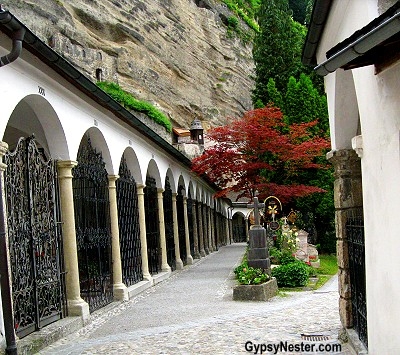 We discovered that a singing tour guide wasn't necessary as we found a Sound of Music movie site on our own, or at least we are pretty sure we did, the cemetery where the scumbag boyfriend of Liesel ratted out the Von Trapp family. Yeah, we admit it, we deemed it pretty darned cool.
Salzburg also beams with pride of their homeboy, Mozart, and rightfully so.
Born and raised in Salzburg, there is no denying his genius took root here and the town didn't let us forget it. We don't think there is a souvenir invented that doesn't have the Mozart seal of approval. His face is literally everywhere.
Old Town's ancient cobblestone streets are closed to vehicles and lined with shops and eateries, most sporting ornate wrought iron guild signs. These signs date back to the 1400s and the guild system when craftsmen and tradesmen formed guilds, or associations, to manage business and train new apprentices.
As we worked our way up toward the castle, we came to the beautiful cathedral for the city, Domkirche St. Rupert. Sometimes called the most perfect Renaissance building in all of the German-speaking world, this is where Mozart was baptized. The plaza, Domplatz, has become a gathering place for performers, and we love a street performer.
First, we were drawn to a mesmerizing sound from an ancient instrument known as a Cembal d'amour. The design is much like a clavichord, except without the piano-like keys. The Cembal is played with mallets directly striking the strings. Another favorite of ours was a street guitarist with an inventive, if not very factual, patter that set him apart. We listened in as he told some unsuspecting tourists that the selection he was playing was "an old Italian folk song." We knew it better as the classic rock masterpiece Bohemian Rhapsody by Queen.
High on a hill overlooking the Old Town, right where a castle should be, stands Hohensalzburg Castle. The name means High Salzburg Castle which, since Salzburg literally means "Salt Castle," makes its full translated name the High
Salt Castle Castle. The name for the town has nothing to do with the castle however, it comes from the barges that used to carry salt on the Salzach River.
Nomenclature aside, Hohensalzburg Castle is one of the largest, and best preserved medieval castles in all of Europe. Of course we had to see it, but getting there looked to be quite a daunting task. No wonder it had only been attacked once since it was built back in 1077.
But luck and modern convenience were on our side. Nowadays there is an electric cable railway, or funicular, to take people up the rocky face of the mountain. For a small fee The Festungsbahn will deliver people up the side of the cliff, as long as they promise to come back down.
The view from the top was absolutely astounding. A full panorama in every direction that included the city, river valley and The Alps. Maybe the site wasn't only chosen for its strategic value.
The castle itself is massive, and laid out on many levels. Staircases and dark, dank hallways connect the various structures, many of which are still in use. There are several restaurants, a bar, galleries and a concert hall all within the walls. It felt like torches should have been lighting our way as we poked around the corridors.
The Reckturm Torture Tower was the highlight of our castle wanderings, with a name like that, how could it not be tickled? We were too afraid to go into the interior, the exterior was daunting enough - and we were purposefully avoiding any thoughts about what may have gone down in there:
The Festungsbahn back down the mountain was a bit gut wrenching, it seemed like we were just hanging in space, but not enough to put us off our food. In fact, it must have strengthened Veronica's constitution because she ended up ordering one of the more unappetizing meals we have ever encountered.
In search, as usual, of local fare of which to partake, I ordered up a Bratwurst mit Sauerkraut at the Gasthaus Wilder Mann, an authentic eaterie with antler-laden walls and a Lederhosen-laden waitstaff. My food of choice was traditional, nothing too bizarre, and very tasty. Veronica however, chose to go off the reservation a ways. She spotted Beuscherl on the menu, which was translated into English as "Salsburgs Calf's Lights served with Dumpling." Without the slightest idea what "Calf's Lights" might be, she ordered it.
Our waitress must have seen this mistake made before, because she immediately asked, "You do understand that this is heart and lungs of baby cow?" Huh? I thought for sure that would scare Veronica off, but instead she asked, "Is it a typical local dish?" Our waitess answered in the affirmative, and soon a big bowl of heart and lungs stew was brought to our table.
Personally, I thought it looked fairly vile, but Veronica was quite a trooper and ate almost all of it. She did need an extra dumpling to dilute what she called the "organ-y aftertaste." Later, I found a recipe for Beuscherl, more commonly spelled Beuschel, on the Internet. It's not pretty:
"Separate the veal lung from the windpipe and gullet. Soak well, piercing several holes in the lung so that water can get into the cavity. Fry the onion, cut surfaces down, in a pan until golden brown. Fill a large pot with cold water, add lungs and heart and bring to boil. Add to the pot the root vegetables, peppercorns, allspice corns, bay leaf, thyme, salt and onion. Simmer until meat is tender.
Remove the lung after about 1 hour and rinse with cold water to cool. Leave the heart in the stock for at least another 30 minutes, until very tender, then remove. Heat some of the stock in another saucepan and bring to boil. Meanwhile, cut the lung and heart finely, removing any cartilage."
Needless to say, this will not be a dish we will be trying at home, in fact, I discovered that selling lungs as food is illegal in the good ol' U.S of A. Now that's a law we can get behind.
David & Veronica, GypsyNester.com